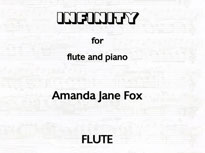 Infinity
"The delicious Infinity for flute and piano sounds a good deal more French than British. It opens in slow waltz time with a long, beautifully shaped, rather melancholy tune in the flute, reminiscent of Fauré or even Chaminade. In contrast to this is a more virtuosic, scherzo-like music, with repetitive, irregularly accented rhythms. These two elements, and some subordinate ones, are played off against each other leading eventually to a nostalgic restatement of the opening melody, and a brief coda in scherzando style." © Calum MacDonald 2007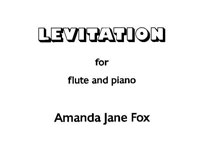 Levitation
"Another gem from Amanda!"
Reviewed by Chris Hankin, who premiered this work at the N.F.A 2010 Anaheim, California Convention.
If you like the music of Amanda Fox you'll love this. Written in her utterly distinctive style, it starts with a gorgeous tune, gains momentum with some triplet dance rhythms and then breaks into a jazz-based final section. It's a great piece so do give it a try.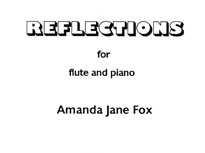 Reflections
Dedicated to Susan Milan, this piece full of long phrases and luscious themes is an enjoyable challenge for any flute player from amateur to professional.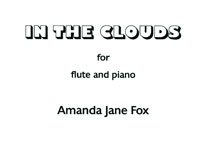 In The Clouds
This piece, dedicated to Amanda's father the late Roy Reginald Fox, is composed in a similar style and key structure to "Reflections". With its abundance of film like melodic themes and strong romantic harmonies it becomes a work, which is a joy to play!